Original Characters:
Name: Daniel Thermidor
Age: Physically and mentally 17, chronologically 24
Race: Human?
Height: 6' 2''
Eye Color: Gray
Hair Color: White
Profession: Assassin
Personality:
To begin with, Daniel is a bit of a "downer" in the sense he doesnt seem to have much hope for his future and even acts selfish from time to time. As time goes on his outlook gets brighter and he becomes more optimistic. He is a complete "smart-alec" even in life-threatening situations. He is, though, true to his friends.
Biography:
A young man who has no recollection of his past. All he knows is the slums in which he has his "shanty house" built out of garbage. He has self-taught himself to get around his home city using parkour. He helps those in need but is seen as a criminal for his misdeeds, such as murder, theft, and assault on officers. Although, his crimes weren't unjustified. He only kills in self-defense and in defense of others, steals because he cant pay for the food he needs to survive, and fighting against corrupt officers that began beating him for no given reason. He is very fearful of death because of these acts, believing he will be condemned for them in the afterlife. Although, he is a good-hearted person, refusing to do the crimes without a good reason. Mentally, he is extremely unstable. Every time he looks at his reflection he sees a man with black hair and glowing red eyes staring back, usually with a demented expression on his face. The reflection speaks to him, but anyone else can only see the reflection of his true self. He is well aware of the fact he is insane but accepts he cannot do anything about it and does his best to ignore the hallucination. With what little he can find he fashions tools to help him in any situation he can think he could possibly get in.
Name: Xaldius
Age: N/A
Race: Unknown
Height: 7' 6''
Eye Color: Unknown
Hair Color: Unknown
Profession: None
Personality:
Cold, dark, and ruthless.
Biography:
Xaldius is the "man in the glass" that constantly harasses Daniel in his fight for survival. He has no concept of "love" or "compassion" and sees all life as a disease that has to be erradicated. It is unknown exactally what spurred his existance. A traumatic event perhaps? Only Xaldius himself truly knows. He is an entity with no soul or heart that gains power by latching itself onto living, sentient beings and assimilating a small piece of their soul. When this is not enough, he can slay a being, and absorb the entire soul. But, to what end does this creature devour souls?
Name: Tyrath
Age: Timeless
Race: None (Can change form as he wills it.)
Height: Unknown
Eye Color: Flames
Biography:
At the beginning of creation, there were gods who created the world who are called by many names; Divines, Creators, etc. However, there were also those who had sought to usurp lordship of this very world. In a short-lived battle, these Profane were cast down and stripped of their status. Tyrath, their leader, was given a unique fate: he was cast into the Abyss to be imprisoned for eternity.
Name: Rorek Mikael Enders
Age: 19
Race: Arterian (Human)
Height 6' 4''
Eye Color: Blue
Hair Color: Black
Profession: Would-be Emperor of New Vega
Personality:
Rorek is a happy-go-lucky man who is something of a thrill-seeker. While he is generally care-free, he has another side that is calm and collected, and a reliable leader.
Biography:
A young man destined for the throne of New Vega. He is a fun loving man who has powers he uses purely to entertain friends. He has never had to use them for anything really important. His future, though, would go awry a while after his beloved, Mira, objects his crowning...
Name: Mira Tullia Noel
Age: 18
Race: Human-Dunmer Mix
Height: 6' 0''
Eye Color: Violet
Hair Color: Black
Profession: None
Personality:
Biography:
Roreks best friend / girl friend. They have known each other practically since birth and have gotten along famously. Although she is more cool and collected than Rorek, she is like him in the sense she is interested in having a good time whenever possible. Their relations would turn sour when she would be trapped in circumstances that force her to turn on him.
Mortal Name: Aysel May
Demon Name: Astraea
Age: Unknown
Race: Demon
Height: 5' 8''
Eye Color: Blue
Hair Color: Brown
Profession: None
Personality:
Biography:
A girl who appears as a normal human. She is a demon who serves Jaxe, but hates it. She has no way of resisting him but looks for any way to sever her bond to him she can find. She also recognizes Daniel without having met him. Perhaps she has some kind of connection to him?
Name: Wynn
Age: Unknown; mid-late teens
Race: Human?
Height: 5' 9''
Eye Color: Grey
Hair Color: White
Personality:
Wynn is very cold and distant twoards all those around her. She never lets anyone get to know her personally besides her cold exterior. She also avoids saying more than she has to in a conversation.
Biography:
Wynn is a woman whom no records exist. She is a very efficient assassin who has never failed to kill her target... she has never even had her cover compromised before. While her personality is hard and cold, she has chronic nightmares which involve her crying in her sleep. Even though she has no known friends or relatives, a few claim they are positive they have seen her before, they just cant remember where.
Name: Ishmael S'al-Kaar
Age: 100,000+ (Physically in 20's)
Race: Khajiit
Height: 6' 1''
Fur Color: Ash, Black Streaks
Eye Color: Sky Blue
Personality:
Ishmael is utterly unpredictable. He always has a sunny demeanor, however he tends to go overboard on the alcohol. He is a total drunkard, and is extremely violent when he is drunk. He is extremely intelligent but equally unwise. A genius with an inability to apply his knowledge.
Biography:
Name: Arina Nightstealer
Age: Unknown
Race: Dunmer
Height: Unknown
Eye Color: Black
Hair Color: White
Personality:
Biography:
Name: Kalina Nightstealer
Age: Unknown
Race: Dunmer
Height: 5' 6''
Eye Color: Red
Hair Color: White
Personality:
Biography: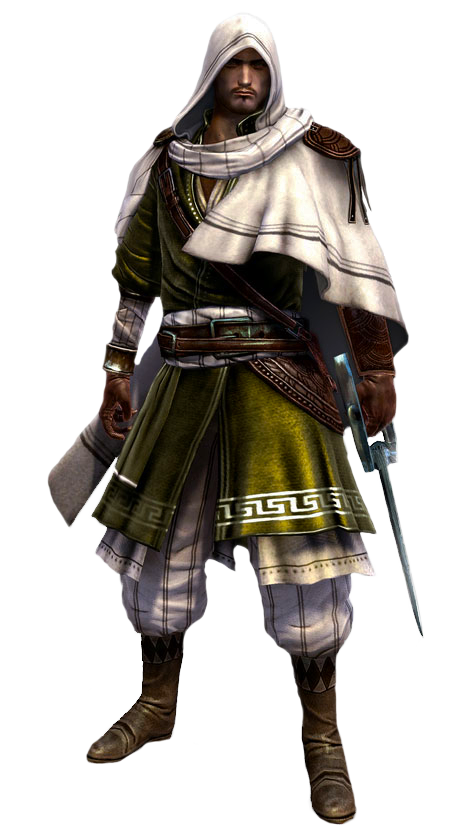 Name: Azrael Yigit Prakash
Age: 31
Race: Human
Height: 5'11''
Eye Color: Brown
Hair Color: Brown
Personality:
Azrael is a relatively well-mannered man who tends to be very friendly and very honest. When given a contract, he is forthright with the fact that he will complete the objective, however he cant guarantee it will be silent or clean. He calls himself the 'most-reasonable assassin there is.'
Biography:
Name: Valatiri Haldor Enders
Age: 50+ (Allegedly Deceased)
Race: Human
Height: 6' 4''
Eye Color: Blue
Hair Color: Black
Biography:
Name: Thalom Alum'ee
Age: 27 Cycles
Race: Sangheili
Height: 10' 3''
Eye Color: Blank White
Personality:
Biography:
Name: Jarvis
Nickname: "Babyface" Jarvis
Age: Unknown
Race: Human
Height: 6' 1''
Eye Color: Brown
Hair Color: Black
Personality: Jarvis is a very cool and collected individual, but far from the quiet type. He will carry on a conversation, but it is nearly impossible to get a rise out of him. He is also one of the most patient humans alive.
Biography:
Jarvis was a warrior who got lost in Lordran years ago before space travel was possible for humanity. He managed to get himself branded with the Dark Sign through events he cant even recall. After escaping the Undead Asylum, where he was locked up when it was discovered he was no longer human, but an undead. Years passed after his escape, and he found himself at the end of an enemies sword more often than he'd like. Clerics hunted undead practically for sport. Knowing it'd be only a matter of time before one of them finally got the better of him, he retreated for many years deep into a light-devouring tomb where giants are buried and lived there for years, hoping to wait out the dark ages until he could blend back in with society. He got trapped in this tomb far longer than he had intended and only surfaced recently. He has been in the tomb for thousands of years, and just barely scraped by with his sanity in tact from the years of being underground. As he worked his way to the surface, he encountered an unknown being that he dispatched and found an enchanted mask on. This mask had the face of a child, and it is through this mask he received his nickname: "Babyface." Soon after, he escaped and managed to blend back into society as a mercenary.
Canon Characters:
Cloud Strife
Dante
Nero
Sparda
Vergil
Tifa Lockhart
Barret Wallace
Aerith Gainsborough
Red XIII
Cait Sith
Cid Highwind
Vincent Valentine
Yuffie Kisaragi
Sephiroth
Trish
Lady
Master Cheif
Arbiter
Captain Jacob Keyes
Cortana
Alt'air
Ezio Auditore
Copyrights:
Final Fantasy 7 (shared with Rain)
Final Fantasy 13 (shared with Rain)
Final Fantasy 1
Assassins Creed
Devil May Cry
Halo
Elder Scrolls
Dark Souls
Demon's Souls

Wynn

Commander





Number of posts

: 1114


Age

: 25


Reputation :

3


Registration date :

2011-06-26





Similar topics
---
Permissions in this forum:
You
cannot
reply to topics in this forum