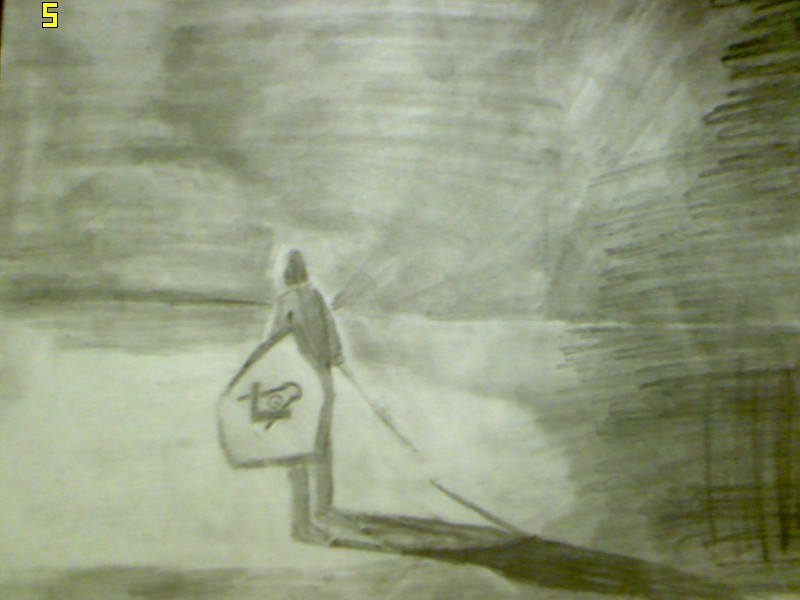 Name: Angus Vargas
Age: 207
Chosen God: Chaos
Weapons:
1) Mithril scimitar, silver tip
2) Poplar staff, iron head
Weaknesses:
Robes for armour
Slow and weak
Items:
1)homemade spellbook bound in wool
2)robes
3)hatchet
4)flint and steel
5)gold dagger (dull and useless)
Spells:
1)Disarm
2)Haste
3)Heal heavy wounds
NEW4)Shield
NEW5)Ventriloquism
Biography:
Angus Vargas was born on a Dyson Sphere In the Fetory system of the galaxy he was given all the advantages of advanced life, including extended life. After a crime he committed so horrible that the elders could not stand to have him on their planet but death was not an option he had memories implanted and was shot into the sol system. The memories made him think that he was born on Avalon, and knew the basics of staying alive on earth and he knew nothing more.
After several years on earth he found civilization, a kingdom and he entered his new life at the age of 82. He proved very worthy of keeping around and over the course of 120 years he learned magics and was deemed immortal. He was sent out into the wild and has been living in a cave not far from the kingdom meditating and surviving. After choosing Chaos as his god he learned to call upon him for dire situations and prays to him every day, keeping him in touch.
Last edited by Angusm3 on Mon Jan 10, 2011 4:12 am; edited 9 times in total
_________________________________________________
"Wearing an eyepatch could save your eye."
Ok then, now how did he get to Avalon?
Indeed, as there are only the four gods... For now at least.
_________________________________________________
Signatures:
"All endeavors call for the ability to tramp the last mile, shape the last plan, endure the last hours toil. The fight to the finish is the one... characteristic we must possess if we are to face the future as finishers." - Henry David Thoreau

"If you think people care about you or your commands, you're delusional. You have to make an impact, a legacy to be accountable to. Be the cause of a calamity or a miracle, and then you will become the symbol of the people; A true leader with authority, either through the mutual fear or love of the masses." - Mikhail Azarias
can I use Chronos or do i have to change him to one of those default 4?
I didn't notice those when I was character building yesterday
_________________________________________________
"Wearing an eyepatch could save your eye."
Well, given your god is nonexistent in this universe, i would guess so

Okay, I likes it. But the book in pig flesh kinda creeps me out still...oh well.
_________________________________________________
Signatures:
"All endeavors call for the ability to tramp the last mile, shape the last plan, endure the last hours toil. The fight to the finish is the one... characteristic we must possess if we are to face the future as finishers." - Henry David Thoreau

"If you think people care about you or your commands, you're delusional. You have to make an impact, a legacy to be accountable to. Be the cause of a calamity or a miracle, and then you will become the symbol of the people; A true leader with authority, either through the mutual fear or love of the masses." - Mikhail Azarias


Similar topics
---
Permissions in this forum:
You
cannot
reply to topics in this forum